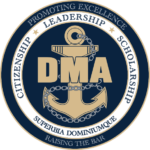 The Delaware Military Academy is the only charter high school in the United States based on the traditions, values, and ideals of the U.S. Navy. Although academics are the backbone of any educational organization, leadership is the muscle of DMA. Cadets learn through a structured, traditional military school environment including self-discipline, motivation, and activities that enable our students to become productive citizens in a vastly changing technological society.
Click Here for Hours of Operation and more information about DMA.
Look into the future and prepare for these future DMA events!
We encourage you to check the full Events Calendar weekly to see all upcoming events and details.
Catch Up on the Latest News from Seahawk Nation
Congrats to our DMA Baseball Team
Show your Seahawk Nation pride in style. Our Seahawks Gear features Men's, Women's, and Youth clothing, as well as accessories, decals, and more!
We've made it our mission to prepare young men and women for their next level of education by providing them with a foundation that leads to good citizenship. As such, we're proud to provide our students with unique benefits and programs.
We are the Seahawk Nation
Fight till the game is won.
Stand up and cheer our team on,
Won't rest until we're done!
"FIGHT, FIGHT, FIGHT!"

Pride in our Navy Blue and Gold,
Pride in DMA,
We will FIGHT, FIGHT, FIGHT,
We will WIN, WIN, WIN,
Till we seize the day!!