School Choice is Now Open!
We are not only proud of our DMA cadet but we are proud to be part of such an amazing school that is so dedicated to the students! We are Seahawk proud!
My family chose DMA because we believed that Naval traditions combined with a modern curriculum would be the most beneficial influence for our son's career and life choices.
As a former principal of three different and prestigious Delaware high schools over twenty-three years, it has been a privilege and pleasure to be identified as a DMA Board Member for a school so well run, with cadets filled with such conviction and purpose, and with an aim of educating the leaders of tomorrow.
My family chose DMA because it provides the perfect experience for our daughter to become a well rounded successful citizen.
My family chose DMA because of their commitment to excellence!
School Choice is Now Open!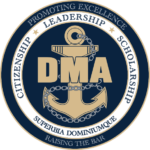 Founded in 2003, the Delaware Military Academy is the only charter high school in the United States based on the traditions, values, and ideals of the U.S. Navy. Although academics are the backbone of any educational organization, leadership is the muscle of DMA. Cadets learn through a structured, traditional military school environment including self-discipline, motivation, and activities that enable our students to become productive citizens in a vastly changing technological society.
Click Here for Hours of Operation and more information about DMA.
Class of 2024
Ring Ceremony
April 5, 2023
6:30 – 7:30 PM
Drill Deck in McDonald Hall
Click for more information on Prom Tickets and Guest Passes
DMA's Gala
May 20th, 6:00PM
Make sure you are prepared for these future DMA events!
We encourage you to check the full Events Calendar weekly to see all upcoming events and details.
Catch Up on the Latest News from Seahawk Nation
Show your Seahawk Nation pride in style. Our Seahawks Gear features Men's, Women's, and Youth clothing, as well as accessories, decals, and more!
We've made it our mission to prepare young men and women for their next level of education by providing them with a foundation that leads to good citizenship. As such, we're proud to provide our students with unique benefits and programs.
We are the Seahawk Nation
Fight till the game is won.
Stand up and cheer our team on,
Won't rest until we're done!
"FIGHT, FIGHT, FIGHT!"

Pride in our Navy Blue and Gold,
Pride in DMA,
We will FIGHT, FIGHT, FIGHT,
We will WIN, WIN, WIN,
Till we seize the day!!